How I got into contact with the foreign company
At first it was very difficult to find a contact person in Spain. Our branch in Hamburg is the gateway terminal for the Scandinavian countries with daily connections to Aarhus or Helsinki. Contact with spanish colleagues is rarely, because all shipments to Spain are transhipped through our gateways in Frankfurt, Menden or Cologne. However I was very lucky that my apprentice colleague- who is actualy from Barcelona – could provide me with contact details for our branch in Spain. I contacted her and she provided me with the email adress of the human resources managerin for DHL Freight Iberia. In consultation with our human resources department in Hamburg I then applied for an internship and got a confirmation within the next days.
Journey and accomodation
My company was providing funding for my flight to Barcelona and back to Hamburg. In order to support my funding for the shared-flat and other expenses I was going to pay I had to apply for an Erasmus+ scholarship. For me it was a big advantage being responsible by mysellf to find a shared-flat in Barcelona and not to trust into our human resources department, because I could check what fits into my budget and where it is located. I was searching online on spotahome, airbnb and uniplaces. Even though I began searching in January/ February it was kind of difficult to find a shared flat, because most landlords are seeking for medium to long-term apartment and room rentals.
The flat I found in the end was a five room shared flat in Raval. El Raval is a neighbourhood close to the old port that borders La Rambla and the Barri Gòtic. It is one of the most densely populated areas in Europe. With its central location the city beach Barceloneta and the city centre were just a few minutes away by walking. Every day I took a bus to the logistics center in the port area which took around twenty minutes one-way.
Process of the pratical training in the company
The branch in Barcelona is with around sixty employees much smaller than my training company in Hamburg ( around 180 employees). Contrary to our branch in Hamburg, DHL Freight and DHL Global Forwarding were although located in the same building and were therefore sharing the warehouse. In Hamburg those two divisions are separeted and working collaboration is more rarely.
The office
Contrary to our office in Hamburg, import, export, billing, customs clearance, cartage and the sales department were sharing an open-plan office. Only the customer service had a separeted office, because logically they are speaking more on the telephone. Having experienced both I pretty much like the concept of an open-plan office because its easier to talk to your colleagues when you have urgent shipments or have any other problems. Furthermore two of our cartage-contractors were sharing the office with us, which helps a lot when the delivery adress is not correct or the pick-up reference is missing. Therefore the communication is much faster ,which can often help to accelerate processes and it helps minimizing errors.
Import Department
I was deployed in the import department during my pratical training. During my first days I was mainly helping with the execution and support of office routines.The reason for this, I believe, was mainly because in Spain they do not have the system of a dual training. Therefore they expect you to have little or no experience in working in logistics. But this changed pretty fast after explaining my colleagues the system we have in Germany and explaning to them in which departments I have worked so far.
Inbound trucks from Spain and abroad ( Germany, Italy, Sweden, Switzerland, Finland)
In the morning trucks are arriving at our warehouse with goods from all over Europe, which should then be delivered within the catalan region or are forwarded to Madrid or Valencia. Our warehouse staff is issuing for every truck an unloading report with all the shipment details to us. The unloading report is important for us to see which shipments are for example damaged, dangerous cargo, incomplete or need to cleared for customs. Depending on the zip code some shipments for the catalan region and the Balearic Islands are not delivered on the same day and we therefore have to adapt a new delivery time in the system. For instance shipments to Ibiza, Formentera and Mallorca are forwarded to a partner and then shipped by ferry, which takes around two to three days.
Amazon
It is although necessary for all the Amazon shipments to adapt the delivery time in the system. In Barcelona is one of Amazons biggest warehouses for its mediterranean area located. The branch in Barcelona therefore is receiving many shipments of Amazons suppliers. All those shipments can not be delivered without booking and confirmed appointment. I was helping my colleague with the booking of time slots and issueing forwarding orders for Amazon. We although had to check if the goods are packaged correctly and if they were damaged, could still be delivered to Amazon. After we got a confirmation for the requested timeslots- usually we had four trucks every day for four different Amazon warehouses- we had to schedule the delivery with our cartage department and our warehouse staff.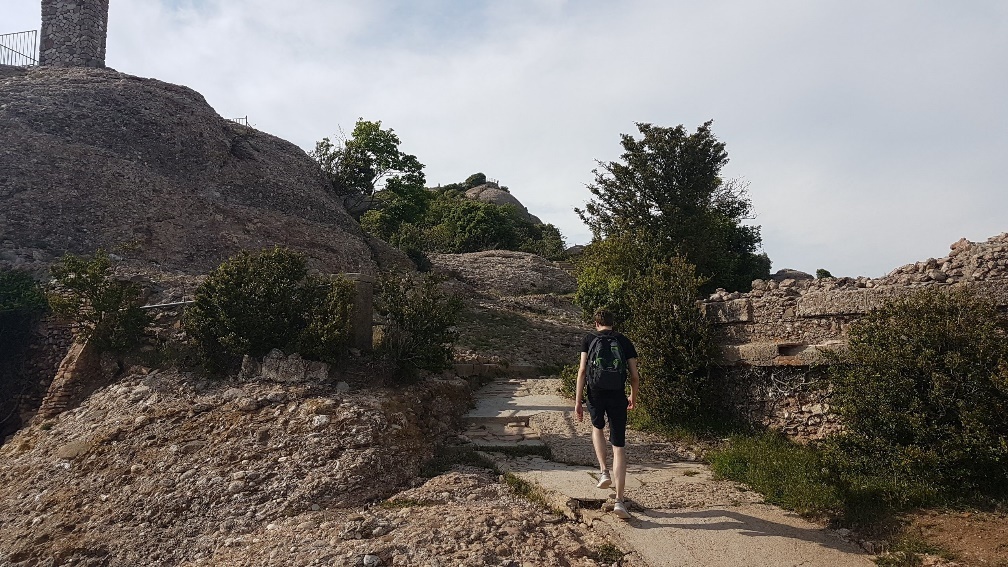 Spare time activities and intercultural experience
From my first day on I was generously welcomed by my warm-hearted Spanish colleagues. They offered me to show me around and later have something to eat, which I obviously accepted. We first headed to Montjuïc, which is a hill with a relatively flat top overlooking the harbour, to the southwest of the city centre. The eastern side of the hill is almost a sheer cliff, giving it an amazing view over the city's harbour immediately below. Located on top of the Montjuïc is although a small fortress located (Montjuïc Castle). Then we headed towards Plaza Espanya in the City centre, because we were all very hungry. The restaurant was amazing. I have never thought before Spanish food (only lunch and dinner) are so diverse and tasty. Spain's most common food is patatas con huevo, or potato omelet. Other gastronomical delicacies include seafood paella, chorizo sausage, gazpacho soup and tapas.
Experiencing the city
As my classmate Sebastian was only living two minutes away from my apartment, we spend a lot of time cooking in my shared flat or walking around in Barcelona, getting to know the city. Additionally Sebastian did not have as much luck as I did with his flat. The kitchen was so dirty, that he could not cook in his flat. Therefore we were often using the kitchen in my flat. Luckily I was living together with two Italians, who told us the secrets to original Italian pasta.
As I have mentioned before eating is an important part of Spanish culture. Most Fridays every department in our branch in Barcelona is going to a restaurant during lunchtime. At DHL Barcelona lunchtime is two hours (varies depending on the company). Because you have so much time, some employees go home to take a siesta or in summer go to the beach. For me two hours are too long because you have to work longer, if you have such a long break. Off course you can spend more time with your colleagues to have a coffee during lunch, but you get later home.
Montserrat
My colleagues gave me several advice of what I should see in Barcelona and in its surrounding area. Besides the well-known tourist attractions Gaudi Park, Sagrada Familia, Camp Nou and Placa Espanya they recommended me to visit Montserrat. Montserrat is an unusual rock mountain and approximately thirty minutes by metro towards the inland. It is well known for its Benedictine abbey and the sanctuary of the black Madonna. Even though it is possible to access the abbey by cable car, Sebastian and I decided to access the site by hiking – which took us around two hours. Montserrat is not a place known by many tourists and is therefore very popular among Catalans and catholic pilgrims. Having arrived at the abbey (721 MASL) we decided to access the main peak Saint Jeroni – the highest point of Catalan mainland- with 1,236 MASL. The hiking tour to the peak was even more demanding because we underestimated the length and the hot Catalan weather. But the great effort was totally worth the amazing view.
Soccer
Approximately every three to four weeks DHL Freight plays soccer against our colleagues from DGF after work. As I have mentioned before are Freight and Global Forwarding sharing the warehouse in Barcelona. Therefore it exists a strong rivalry which division plays better. Fortunately we won 7:4 and the game was a lot of fun.
My evaluation of this part of my apprenticeship
The practical training abroad was for me in many aspects an enriching experience. Most importantly I could bring in my professional skills that I have learned during my apprenticeship both in my company and in school. As I have mentioned before there is nothing existing like an apprenticeship in Spain so my colleagues were surprised in how many different departments I have been working in before. Having seen many different departments in Hamburg helped me to understand the process chain of shipments coming for instance from Germany to Spain and why even though problems exist (different IT System e.g.).
Although the opportunity to live abroad helped me to improve my Spanish language competence in reading, writing and most of all in speaking. In the beginning of the training abroad speaking Spanish and understanding what my colleagues wanted from me was difficult and I tended to speak and reply in English. But this changed after a couple of weeks because my colleagues wanted me to learn Spanish – not Catalan- and so I was forced to speak Spanish most of the time at work.
During the internship I although had the opportunity to meet new people. People from my organization or roomates with whom I have become friends with. Additionally I think the internship might enhance my future employability im my home country or even abroad.
Contrary I think five weeks of practical training are too short, because you have just made friends with some of your colleagues, got your own responsibilities and have integrated yourself into the working structure and then your time is over. However I think it would have been even more difficult to say goodbye if I have stayed longer.